Anqunette Parham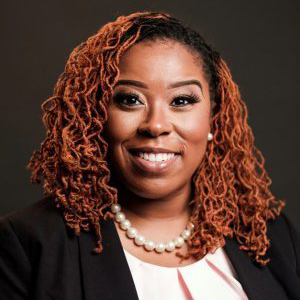 MEET ANQUNETTE PARHAM
Ms. Anqunette Parham is the Executive Director of the Health and Human Service Department for the City of Rockford. A native of Rockford, IL, Ms. Parham is a graduate of the Gifted Academy at Auburn High School. She holds a law degree from University of Illinois at Chicago Law School, a Master's in Public Health from Benedictine University and a Bachelor's in Sociology from DePaul University.
After many years working locally in community health and social service settings, Ms. Parham turned her sights toward a legal career focused on health law and compliance. She is now an attorney, experienced investigator and compliance leader with more than a decade of health care and human services experience that blends research, legal analysis, and policy development with leadership experience in direct care and program administration in community and clinical settings. She previously served as Manager of International trade compliance for Collins Aerospace, and Grant Administrator at Crusader Community Health.
For 14 years, she's owned a consulting company which organizes, executes, and evaluates health and social services programs. Her current community board service includes the Wabongo Leadership Council, UW Health Swedish American Hospital, the YMCA of Rock River Valley and the Community Foundation of Northern Illinois Scholarship Advisory Committees.
Her history of volunteerism in the Rockford Community includes over fifteen years as an active member of Alpha Kappa Alpha Sorority, Inc., prior service on the RAMM Scholarship Committee for over a decade, the Golden Apple Foundation Board of Directors, Diversity of Rockford, the United Way's Women's Leadership Council, the Rockford Register Star Editorial Board, the Special Olympics, and even the Rockford School Superintendent's Advisory Council in the late 1990s while she was a student at Auburn.
She's previously been named by the Rockford Chamber of Commerce as one of the 40 Leaders Under 40, one of the Rockford Register Star's People to Watch for 2019, one of the 25 Black Leaders to Watch, and a YWCA Woman of Achievement Promise Award Winner.
In her role leading the Health and Human Services Department, which is the designated Community Action Agency for Winnebago and Boone Counties, Ms. Parham has reaffirmed the organizations efforts to break the cycle of generational poverty and to mitigate the immediate effects of poverty on individuals, families, and neighborhoods. Every day, Ms. Parham brings to bear her experience as an advocate for fair housing, expanded educational opportunities, and increased health equity through better access to health care and health-related information. The hallmark of her work is bringing the knowledge and passion of the front-lines, to the strategy and planning of the board room.
Ms. Parham is an inaugural Global Impact Alumni a RAMM Scholar from 1999.