Since 1982, RAMM has awarded more than 700 scholarships and over $1,000,000!
RAMM Class of 2021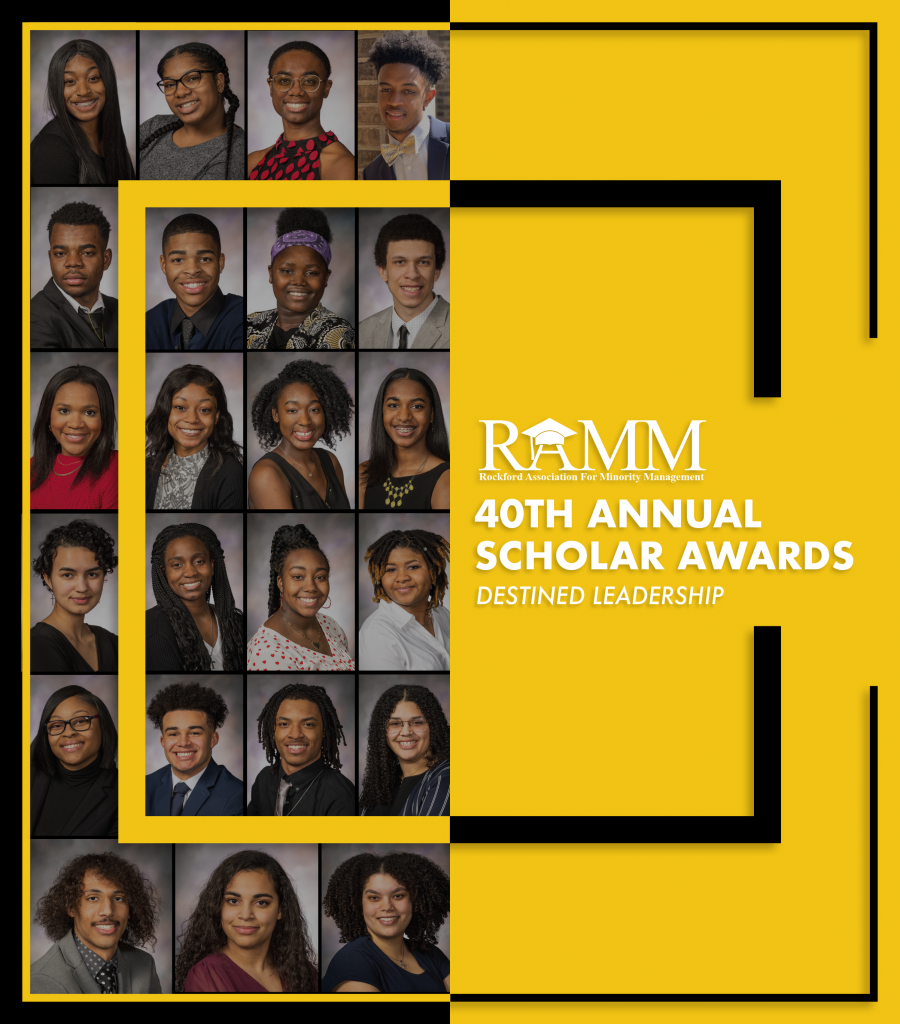 RAMM Class of 2020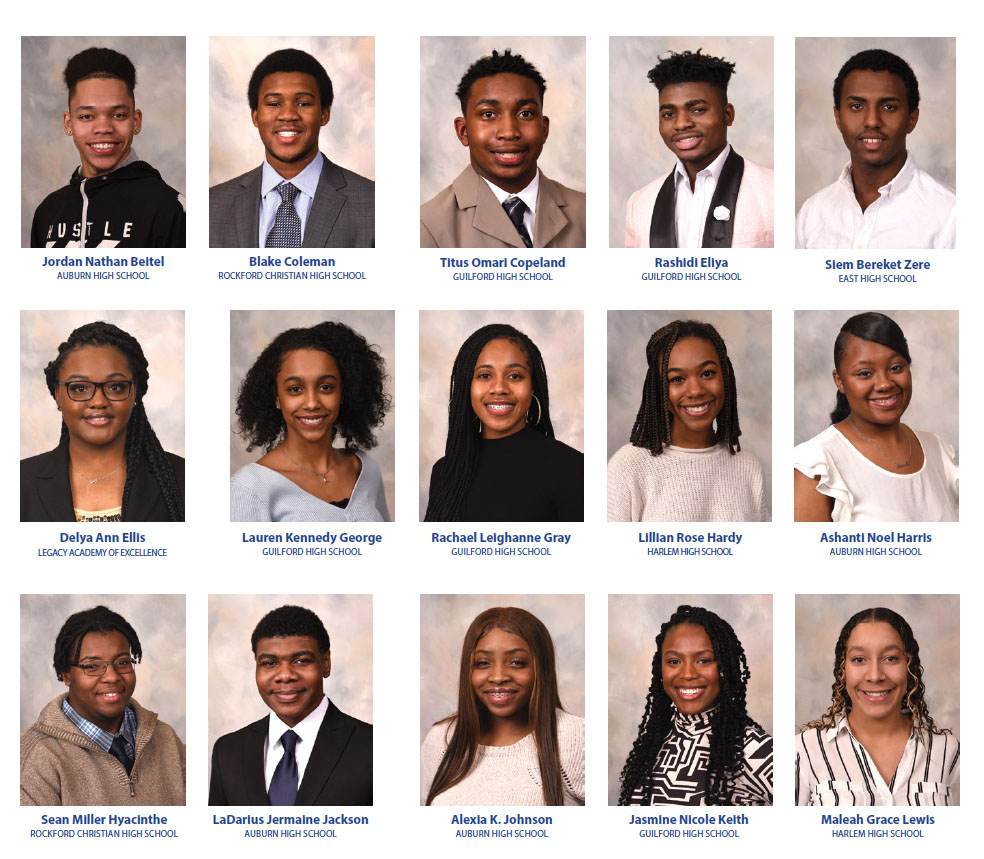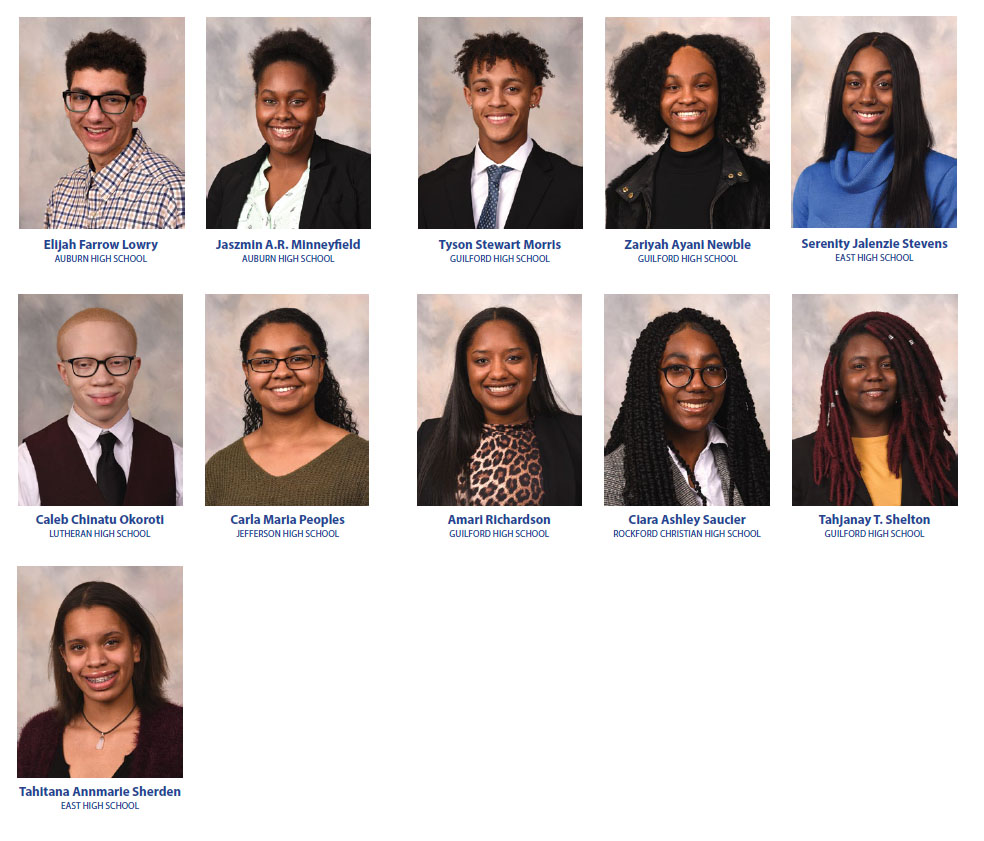 2019 SCHOLARS
AMBASSADORS OF THE FUTURE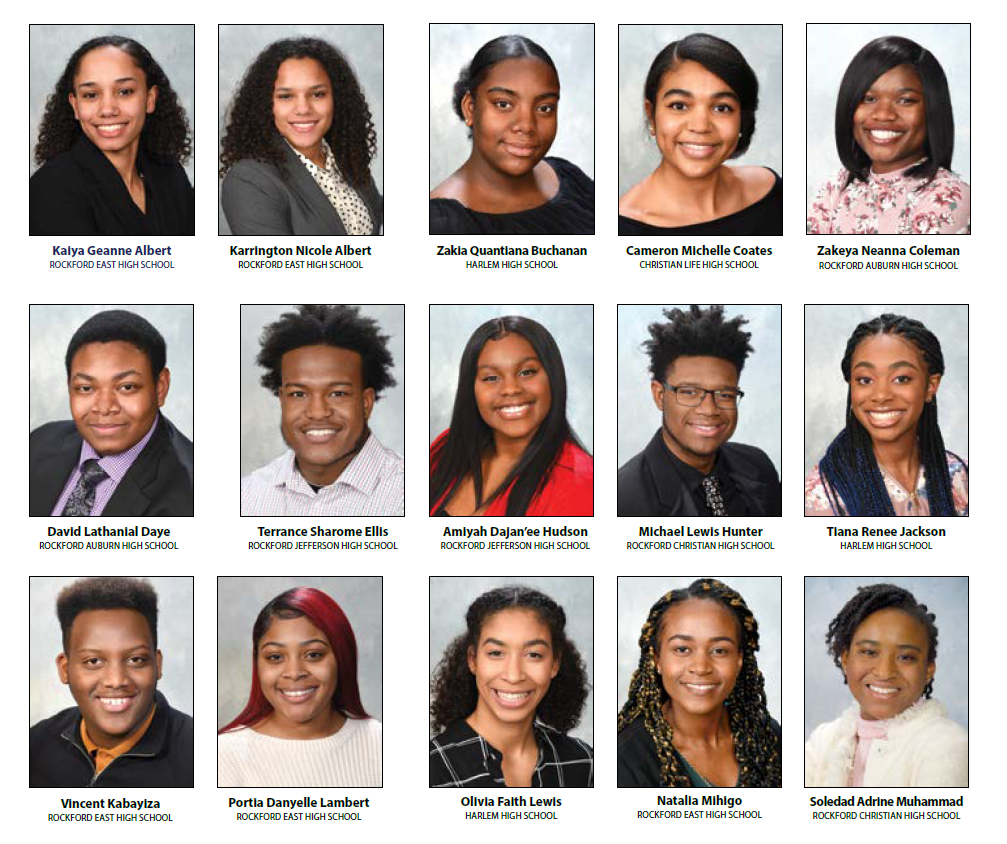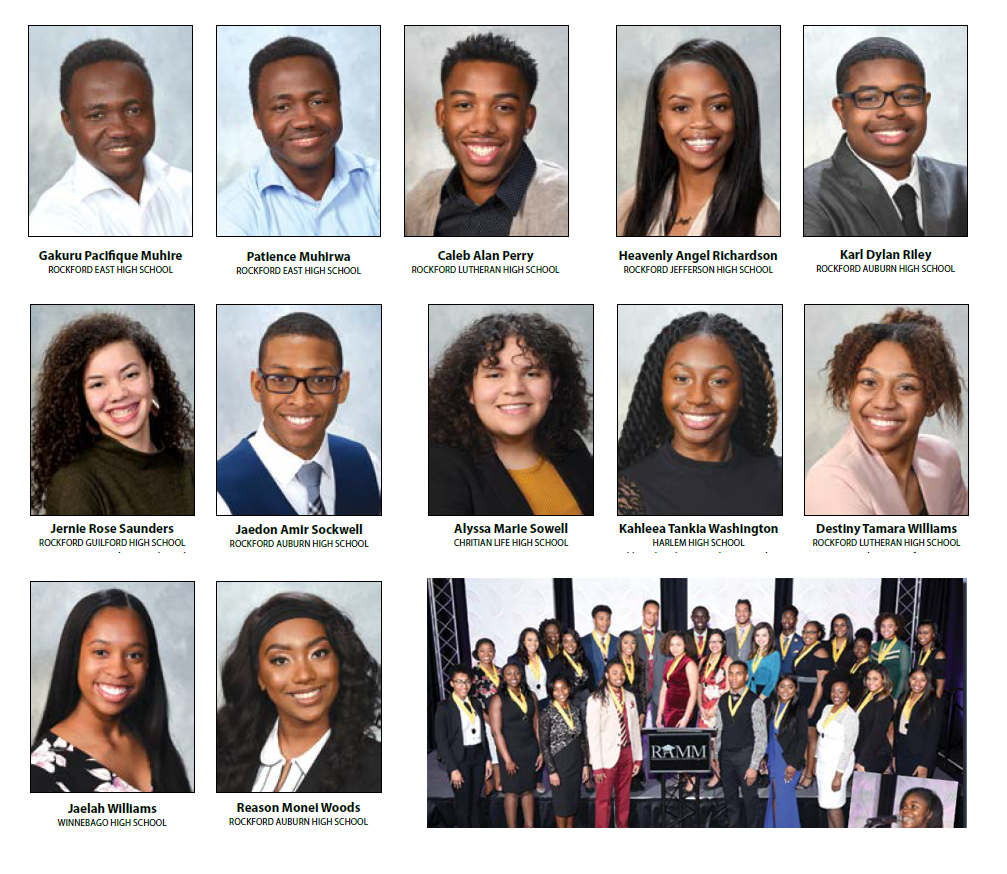 PAST SCHOLARS
BUILDERS OF THE PRESENT COMMUNITY
Jordan L. Boyd, McKenzie N. Brown, Taryn A. Burress, Kasim K. Burton, Taylor R. Crout, Janai D. Crumbley, Serena R. Dorsey, Mykell Z. Fricks
Ashlyn L. Giardono, Fercule Girukwishaka, Danyell L. Haynes, Julian D. Haynie, Makayla R. Hudson, Hassan S. Jacobs, Kenzell M. Jones, Kionte M. Lewis, Celene N. Morris, Yahmir Muhammad, Borauzima D. Muhigirwa, Breon M. Newbie, Eric Nshimiyimana, Myles A. Primm, Mahogany E. Smith, Brittney S. Sockwell, Abigail O. Suleman, Taylor A. Weatherly, Ausha R. Whitaker, Hannah J. Williford, Maliyah I. Woodard
Cameron Anderson, Angelica Bonner, Grant Burress, Olivia Cattage, Elias Fambro, Narquavion Fort, Ayanna Fowler, Nascia Garien, Brian Gully, Ayanna Horton, Jenna Kahley, Alivia Kennedy, Monet Lowery, Solomon Ogbevire, Uchechi Okeke, Brenton Shaw, Kay'Sha Smith, Joe Taylor, Neil Thomas II, V'Tia Thomas, Marquell Williams, Destiny Yates, Fahren Zackery
Faith Boyd, Khaley Caruthers, Khayla Caruthers, Abeni Copeland, Imari Fletcher, Malik Fowler, Taylor Franklin, Kennedy Grimes, Keja Hanes, Tyrin Lamb, Alfonso Lambert, Kristopher Littleton, Dejanna Lonsgtreet, Chito Mihigo, Ashlee Morgan, Dorcas Mwangi, Monet Primm, Isabellla Scott, Whitaker Siaw, Donesha Smith, Richard Thomas, Leketa Virgin.
Natashalee Adames, Grace Bitangalo, Kiara Burnell, Tayanna Clark, Claudette, Duncan, Jimmy Garrison, Christian Goza, Christian Goza, Jalynn Hanie, Yasmean Johnson, Phallen Lambert, Dominique Leavy, Julia Malone, Tori Malone, Terrence Montgomery, Abriana Pettigrew, Chibrea Smith, Anttanjha Taylor-Thomas, Asia Ward, Adrianna Ware, Sarah Yapo
LaShaun Anderson, Chanler Brown, Kelsi Brown, Danielle Coleman, Coates M. Devereueawax, Sheontay Edgeston, Coleman Khari Fowler, Jaylin Goldsmith, Taylor Hoffman, Joy Hyacinthe, Jocelyn James, Timia Joseph, Aubyn McGinley, Faith Miller, Marisa Morgan, Sheantera Murphy, Precious Nwaoha. Allison Oates, Dainese Pridegon, Cleveland Redd, Bryce Thomas, Tevyn Thomas, Keyaira Thompson, Diamond Vemer, Raven Wainwright, Jibria Waller, Dejae Washington, Alia Yapo.
Cassidy Campbell, Louis Dotson IV, Lakysha-Ann Evans, Alexis Fisher, Jordan Garcia, Talayah Gordon-Scott, Courtney Hardmon, Alexandria Horton, Matthew Hunter, Jemece Hyatt, Evan Larson, Marcus Matlock, Lionel Nzamba, Trammel Rideout, Edward Robinson, Zachary Royce, Alyssa Sanders, Amanda Thomas, Logan Tillmon, Megan Wells, Lakisha Whaley, Natalie White, Alexandria Wilks, Rosilynn Williams, Jayla Williams-Craig, Kira Wilson.
Benjamin Black, Essence Brown, Jessica Brown, Alyssa Chandler, Muaauya Elhag, Kanhai Farrakhan, Ashya Ford, Na'Quesheaun Ford, Davoncie Granderson, Armarlie Grier, Janeesha Hammond-Bryant, Alvin Holliman. Faith Hyacinthe, Matthew Johnson, Brooke Judie, Chantal Kahsay, Christina Malone, Jonathan Marks, Amra Marshall, Doniel McClendon, Essence Muhammad, Deonta Muhammed, Tasso Pettigrew, Symphony Posley, Teona Richmond, Allaysha Rucker, Rhode Saint-Fleurose, Tanaysha Smith, Akeem Williams, Julia Wynter, Johan Yapo.
Brena Burder, Blaise Butler, Katrina Carlovsky-Cooper, Erika Carrol-Moe, Victoria Cattage, Jerome Crabtree. Christopher Davis, Justin Demus, Chrishaya Dixon, Kendra Farrakhan, Denise Gray, Stephanie House, Shatiquea Johnson, Mariah Jones, Alexis Lambert, Raymond Matlock, II, AlexiMcCammond, Jaleesah Nichols, Fonashay Potter, Atiya Roby, Evon Sams, Ariana Sanders, Kelsie Streeter, Miranda Walker, Allen Williams, Lonnie Williams.
Destiny Ander, Stephanie Bennett, Logan Daniel, Caitlin Davis, Fabian Goffe, Katrina Granberry, Taylor Gulley, Tess Hargrove, Jerry Harris, Jaron Hite, Ariel Johnston, Jasmine Jordan, Mahalia Kahsay, Chan'tey Mack, Calvin Malone, Jr., Kayana Marks, Harmoni McFarland, Colbi Money, Tiffany Murphy, Alicia Rogers, David Scott, Ke'Aira Smith, Nishwanda Smith, Steven Thomas, Marcus Turner, Jalesa Watkins, Carissa Woods.
Jade'a Archer, Orlandra Coldwell, Kendell Coates, Ashley Crowford, Queenette Crayton, Joshua Daniels, Patrice Davis, Chance Franklin, James Gardner, Christopher Hill, Karianne Holliman, Crystal Johnson, Kendra Ketton, Shymaa Mohamed, Jamela Ramjohn, Ahley Ray-Harris, Aiesha Rice, Bianca Roby, Perris Shaw, Jordan Shelton, Anuoluwapo Sofela, Brittany Williams, Jillean Williams, Kelsey Williams.
Monique Bailey, Shekena Bailey, Anequa Blakely, Cornell Bondurant, Ashley Brown, Jauzlynn Brown, Tyler Davis, Bryce Givens, Alexis Golden, Angela Holliday, Stavhn Leavy, Courtney Meeks, Megan Minor, Cynthia Moore, Diana Ogbevire, Asia Reynolds, Beonka Robinson, Michael Rone, Brittany Royce, Brittany Scott, Brittany Smith, Daniel Sowell, Vashta Thompson, Sterling Washington, Kenyetta Watts, Mark West, Diana Wills.
Anntonisha Bias, Ashley Blake, Yomeaquea Brents, Ebony Brooks, Danielle Burks, Cameron Carter, Sierra Chandler, Latiqua Charles, Brittany Dobbins, Justin Francis, Ryan Gladden, Howard Graham, Lindsey Hearn, King Viktor Imani, RaShawnda Johnson, Alexandra Jordan, Lewis Jordan III, Timothy Lewis, Tameia Mangruen, Kaitlyn Meeks, Angela Menningen, Amber Moore, David Parham, Brittney Paschal, Veronica Roberson, Jasper Simmons, Shatiqua Simon, KaShayla Stanford, Michri Stewart, Sara Whitby, RaShawn White, Jacquelyn Whitworth.
Brittany Allen, Megan Appleman, Leshanda Ausler, Jesse Carroll, Jessica Coates, Katelyn Coleman, Michael Cunningham, Brandon Goodloe, Lakhiyia Hicks, Erica Jones, Tiffany Jones, Sharetha Lewers, Mark Martinez, Dashanita Mitchell, Ashley Morgan, Derek Owens, Marcus Randall, Erica Redmond, Collin Ross, Tajanique Shaw, Jalisa Smith, Natasha Smith, Dominque Sowell, Gregory Taylor, Jr., Gregory Thompson, Vivianne Vil, Sachelle Walker-Jones, Diamond Williams, Domonique Williams, Reggie Williams, Mattie Wilson, LaCreanna Young, Lequisha Zackery.
Winston Bowden, Sherel Brooker, Christian Campbell, Brittney Carter, Brittany Cates, Caprica Cooper, Dishon Cox, Andre Dyson, Latavia Elmore, Kinshasa Floyd, Nicole Foley, Brittney Foreman, Shelby Hildreth, Jonte Jackson, Cristal Kayel, Jazzminne Keyes, Kayla Lawson, Kyla Lawson, Matthew Simpson, Arthur Surratt, Sheraton Voss, Colongee Waller, Jarret Watkins, Ron Webb, Reggie Williams, Algeria Woods.
Ashley Anderson, Lacoya Bates, Dennis Bias, II, Sophia Blake, Brianna Bland, Devlon Brooks, Pereese Chandler, Candace Clark, Alexandrea Davis, Derricka Davis, Erricka Davis, Raquel Davis, Dominique Devereueawax, Colette Dixon, Isaac Ellis, Charles Fuller, Imari Hanserd, April Hite, Ashley Jackson, Christina James, Terrica Johnson, Mark Jordan, Paris Love, Shanta McGee, Naquita McIntosh, Troinetta Murray, Tereva Parham, Ashley Robinson, Layla Stott-Smith, LaJimes Watson, Alisa Windom.
Milan Ball, Brecan Bland, Brent Campbell, Lauren Chapple, Karen Craig, Chantally Dixon, Tanara Fields, Elise Gilbert, Leanna Harris, Marissa Harris, Terrence Henderson, Antionette Hobson, Micah Jefferson, Shayla Jones, Ashley Kyles, Christopher Lawrence, Keohsa Jackson, Tyler Meeks, Andrea Paschal, Arthur Rone, III, Grover Shelton, III, LaQueta Shelton, Tiara Sims, Maurice A. West, II, Kathleen Whitworth, Robert Wright.
Shannon Box, Nick Clark, Tenisha Collins, Michael Davis, Brandon Dillard, Douglas Fields, II, Denise Fletcher, Halston Hanserd, Ryan Hawkins, Tasha Hunter, Terry Johnson, Kyna Jones, Idrissa Koroma, Crystal Lambert, Devon LaRosa, Dameon Lewis, Amber Myrick, Courtney Nunn, Ijeoma Okwumabua, John Parham, Leslie Robertson, Timothy Sharp, Asheley Simmons, Chasity Simon, Jacole Stovall Elizabeth Thomas, R. Denise Towns, Patrice Woods.
Pierre Adams, Kimberly Bryant, Ciara Clark, LaShanda Davis, VoNique Ford, Francisca French, Darian George, Eldridge Gilbert, III, Alesha Hardwick, Erica Holman, Carla Lambert, Tina McKenzi, Della Mosely, Kameelah Omar, Jasmine Parker, LaShaunna Pearson, Shani Pease, Bianka Reynolds, Ashley Richardson, Melissa Richardson, Michelle Richardson, Nicole Rundall, David Sidney, Lewis Sims, La'Shae Watson, Deborah Whitmore.
Latonva E. Brown, Shameica T. Brown, Georgiana Coffman, Jolenta C. Coleman, Tiffany P. Cooper, Bahiyvih D. Davis, Sheri K. Foreman, Justin G. Horton, Gregori J. Hanserd, Tymeca L. Lee, Donald S. Little, NeAngela L. Marshall, Kimberli M. Owens, Shavonda A. Pitts, Christopher Russey, Miya J. Spates, Taren R. Stubbs, Jadeda D. Thomas, Tracee R. Vawters.
Monica Box, Marcus Coleman, Andrea Cossey, Sharanda Crowder, Jada Davis, Maurice Davis, Takesha Dorsey, Denesha Flowers, Emilia Gilbert, Travis Hawkins, Danielle Hill, Terri Howard, Ryan Kilgore, Latanya King, Bilal Omar, Anqunette Parham, Kristal Peyton, Latesha Purifoy, Kevin Ragland, Aundrea Robinson, Kurtis Smith, Martina Smith, Tia Stafford, Willetta West, William West.
David Bates, Tammy Beasley, Joel Coleman, Marissa Cook, Nathan Davis, Marie Devereueawax, Tonisha Ferguson, Kimberly Joseph, Kendra Malone, Markesha Pearson.
Traccey Aldridge, Linda Barr, Katia Brown, Anna Burks, Juanta Coffman, Chastity Hoarde, Lakiesha Jamerson, Jason Joyner, Sienna Kent, Haneef Omar, Adreanne Pucket, April Royal, Catherine Underwood, Melissa Watkins.
Sara Barr, Ami Berry, Katrina Caldwell, Rachael Crigler, Latashia Darby, Cory Espensen, Georgianna Ferguson, VaNetta Ford, Julie Gaunty, William Gordon, Ray Grady, Cori Hawkins, Donald Holmes, Eleonzetta Horton, Adrienne Johnson, Monika Newsome, Kevin Patterson, Alvin Portis, Maya Simmons, Erika Sturgis, Nathan Taylor, Kevin Wilson, Stephanie Woods.
Julium Austin, Keellee Black, Shawanda Brown, Akilah R. Carter, Anisha Carter, Judith Cole, LaMonica Darby, Danielle Epps, Nichole Grayned, Valerie Hammonds, LaTonya Harlow, Jennifer Hawkins, Cedric Horton, Karla Hunter, Leslie Jones, Koliza Lee, Kishla Miller, Takeisha Robertson, Timothy Robinson, Tiffiny Royal, Duncan Sanders, Nadia Steward, Kenya Watts.
Kenyita Berryhill, Lucas Carlson, Nichole Foreman, Shereese Hester, Tracy Hill, Alida Horton, Latoya Hughes, Kowanda Lee, Robert Parham, Eric Pullins, Chastity Randle, Samuel Taylor, Chiyana Thomas, Tiffany Thomas, Margie West, Marcel Wilson.
Edwina A. Abloh, Hiram L. Allen, Michelena Austin, Cortney Y. Berry, Daphne, N. Crowley, Marshell L. Guerin, Angela L. Harmon, Kristal P. Hines, Michele, N. Lewis, Kennda L. Lynch, Vickie Morrow, Angela J. Oates, Tiffani A. Richmond, Renita L. Shores, Hasan S. Smith, Nashica D. Triplett, Monica R. Webster
Clifford Dotson, Charmaine Dotson, Yolanda Golden, Georgina Gray, Shoncerrea Iverson, Hina Jaffery, Anngell Jones, Kimberly King, Sonia Omelas, Tynagia Polk Chris Pullins, Bonita Reynolds, Sean Robertson, Joy Sallis, Renee Villalobos
Sharon Blakemore, Sheila Currie, Dimerk Hill, Arguster James, Seonk-Kook David Lee, Jermaine McDaniel, Syreeta Newsom, Beverly Reynolds, Ronald Scott Christia Wilson, Diedre Woodard, Melissa Zachery
Troy Box, Kimberly F. Brown, Omar Francis, Jessica Franklin, Theresa Hardy Amanda Hill, Isaiah Johnson, Nichelle Lawson, Lori Mannery, Gloria Mayer, Denise Phan, Eric Rideout, Felicia Thompson, Karen Williams, Jason Zachery
Pauline D. Barlow, Charles Benson Ill, Deborah Davis, Angela Mitchell, Timothy Ryder, Patrice Saulter, Simone Squire, Emmanuel Thomas
Marietta Bell, Sue Ann Bouromphongs, Belissa Brownlee, Laitaisha Horton, Jeanine Hildreth, Adrienne Lilly, George Mitchell, Pamela Murphy, Kevin Vaughn
Joyce M. Baker, Tuconda Crowder, Charlotte D. Ervin, Miriam L. Jones, Gregory S. Rideout, Ladonna Simmons, Marta P. Vertiz
Dionne Blake, Delaina Bolton, Maureen Garnett, L'Tanga Johnson, Corwyn Moore, Jauna Royal, Rick Stevens
André Cook, Tonya Crowder, Loria Roberson, Frank Sanders
Merv Anderson, Gwyn Gulley