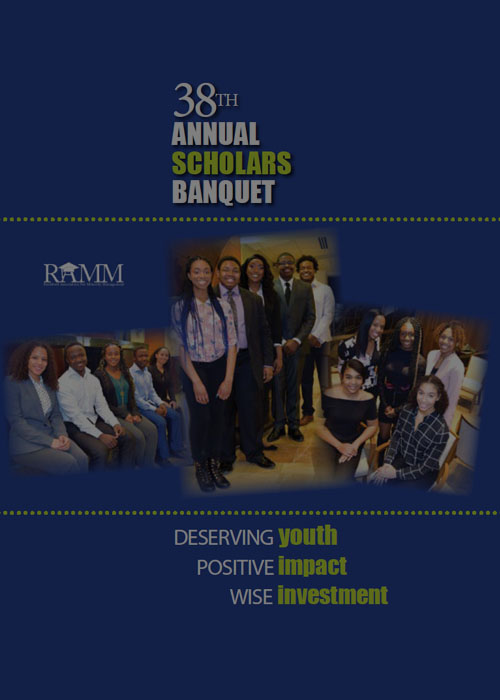 38TH ANNUAL SCHOLARS BANQUET
THANK YOU FOR YOUR SUPPORT!
JESSICA L. JONES
RAMM PRESIDENT
Welcome to the 2019 RAMM Scholars Banquet. For 38 years RAMM has been committed to supporting local African-American high school seniors as they continue their journey to become successful, productive leaders.
DESERVING YOUTH. The 27 seniors we honor tonight are indeed deserving of this honor. Each has a unique story of success. Each is gifted with special talents. Each shares great leadership characteristics. They all possess a natural curiosity and love of learning. Plus, they are all really nice and fun to be around.
They love life. As a group, they embrace challenge and have seen their hard work and perseverance pay off.
POSITIVE IMPACT. In a world vexed by continual change, it is reassuring to understand what our Class of 2019 has already done. Their individual achievements are simply remarkable.
But more importantly, each has reached out into circles beyond themselves. Whether it has been athletics, the arts, church or social service organizations, they are joiners and doers. Each has touched those around them in a positive and longlasting way.
WISE INVESTMENT. In supporting these young leaders, we "pay it forward" for our collective future. These 27 young stars represent what is good today and what will be outstanding in the future. They are high energy. They have great character. They will succeed. Investing in them now, will help assure a bright future for all.
Of course, each scholar tonight hasn't traveled to this point alone. Healthy support from parents, families, schools and churches along with so many mentors and friends have helped mold and shape them. We are grateful to all who helped nurture these 29 young adults to this point. THANK YOU for taking the time to be with us tonight and for your support of the RAMM Scholars Program!
DOWNLOAD EVENT BROCHURE