Rev. André L. Cook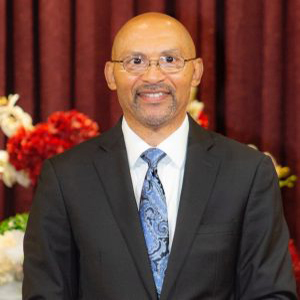 Meet Reverend André L. Cook
Elder of From the Heart Church Ministries, Inc.
Reverend André L. Cook, graduated from Rockford Guilford High School in 1985, where he excelled consistently as a scholar and an athlete, and honored as a RAMM scholar. He went on to attend Washington University in St. Louis and graduated with a Bachelor of Science in Business with a concentration in Finance.
Reverend Cook has worked in various capacities for public and private companies such as Sherwin Williams formerly known as the Valspar Corporation, Titan Steel Corporation, and Land O Lakes, Inc. where he attained the status of Director, managing assets of approximately $150 million.
In 2007, Reverend Cook began working full-time in ministry at From the Heart Church Ministries in Suitland, Maryland. After serving there faithfully for 10 years, Reverend Cook and his wife were assigned to From the Heart Church Ministries of Cincinnati. He is Elder and his wife, Reverend Clarissa Cook, serves as Pastor. His primary responsibilities are managing the day-to-day operations and finances of the church.
He and his wife have been married for over 30 years and have served together in ministry for 20 years. They are the proud parents of three adult children: Asa (Dewey) Watkins, André, Jr., and Braden Cook. Reverend Cook is the son of LeRoy Cook, Jr., and Rebecca Cook Kendall.
He enjoys running, fellowshipping with the saints of God, spending time with family, and sharing the Gospel of Jesus Christ with others.